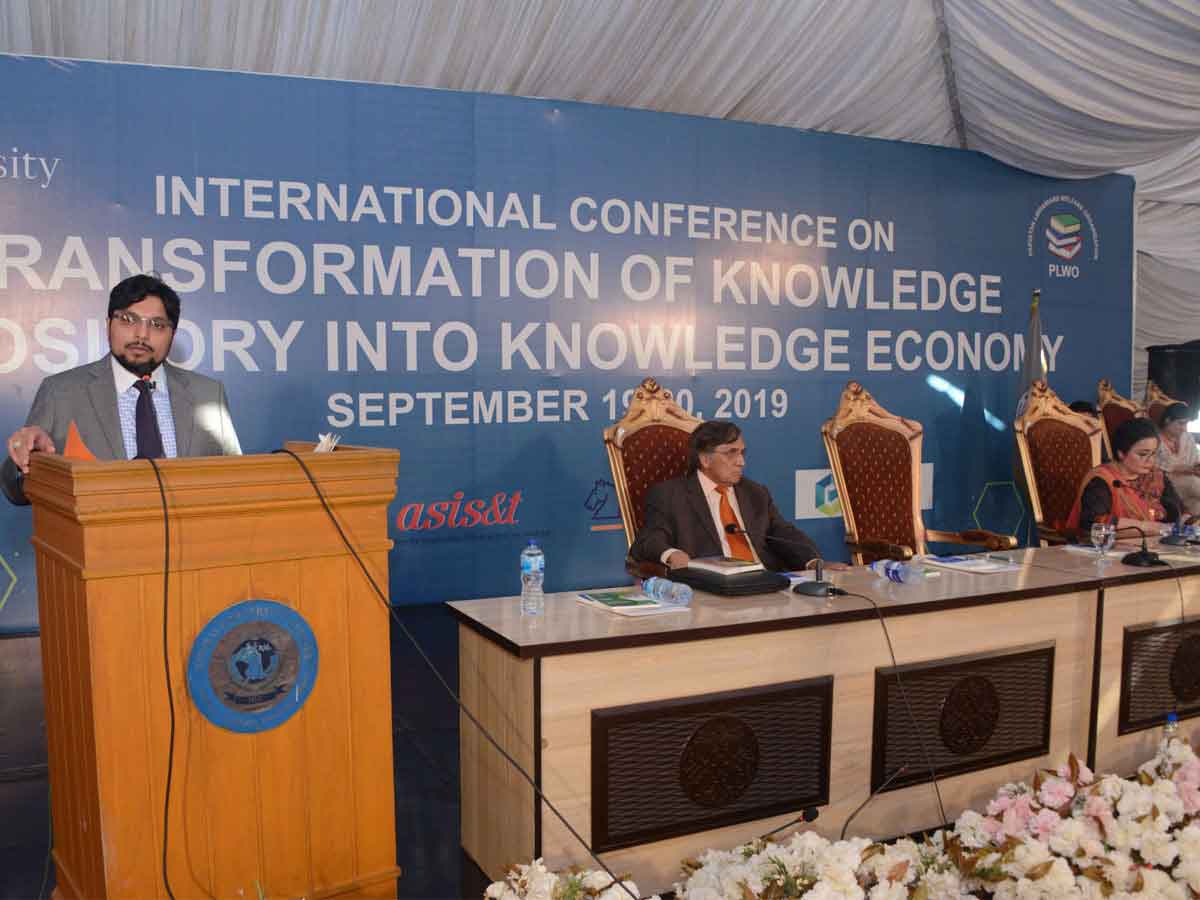 Transformation of Knowledge Repository into Knowledge Economy
The Grand International Conference(ICRKE-2019) conducted by Minhaj University, Library& Information Sciences department in collaboration with Pakistan Librarians Welfare Organizations(PLWO) proceeded towards a closing session with the Conference Synthesis And Declaration duly declared by Dr Hussain Mohi-ud-Din Qadri, Deputy Chairman BOG-MUL.
The Deputy Chairman while concluding the ending session said,'' role of libraries in modern age can be well defined by an analogy by a popular mantra edging from the history of Arabs, "where Egypt was writing, Lebanon was publishing and Iraq was the reader. 'It draws that promoting the culture of book reading through Libraries in this era needs collective efforts. There should be complete harmony among writers, publishers and readers. Technology has changed the global landscape of Libraries, but, in Pakistan landscape is still orthodox. It should be unceremonious."
He announced, " Minhaj University is bringing revolution in this sphere by a Robotic Research-Oriented Library.it would be first ever in Pakistan. In coming times Minhaj University and Minhaj Education Society Under the flagship of Minhaj-ul-Quran International will be pioneer and trendsetter to disseminate the culture of Libraries by holding Library Festivals in more than hundred cities of Pakistan. The crux of Knowledge is to share so the today's conference major objective is to exert efforts to work on the Transformation of Knowledge on novel ways of Repository into Knowledge.
Finally, the Deputy Chairman concluded the declaration with suggestions, ''there should be a binding liaison among library schools, associations and librarians. Furthermore, on-job training is much needed to meet information professionals' challenging role. This requires self-motivation, employer's interest and encouragement.it is integral that policymakers should facilitate the organizations to redesign their information services and to fill the vacant positions in different organizations."
Dr.Prof. Kanwal Amean vice-chancellor(Home Economics University., Lahore) urged, 'Change is the key to acquire knowledge. To build a Knowledge Economy,we must create a culture of sharing knowledge through libraries by bridging the gap between readers, libraries through our academia. It is only possible through self-motivation and self-learning by changing our attitudes and acknowledging developing libraries in newfangled ways."
Dr.Prof.Mohammad Nizamuddin(former Chairman HEC) emphasized,'' to promote the culture of book readings on modern lines we must make it a part of the syllabus at the primary level. In Pakistan, the library means just a Cupboard to keep books. The conditions in government institutes in this respect is pathetic. It needs to be revolutionized. It is high time for the government to pay heed to this sector; otherwise, we will be still living in the stone age of library culture'
Dr Muhammad Shahid Soroya Pro-Vice-Chancellor. MUL expressed deep gratitude to all for participating in the conference and appreciated the efforts of organizing committee and Conference Secretary Director Library Zaheer Ahmad on his committed devotion for making the conference symbolic. He lauded the support of worthy Deputy Chairman and Vice-chancellor in this respect,