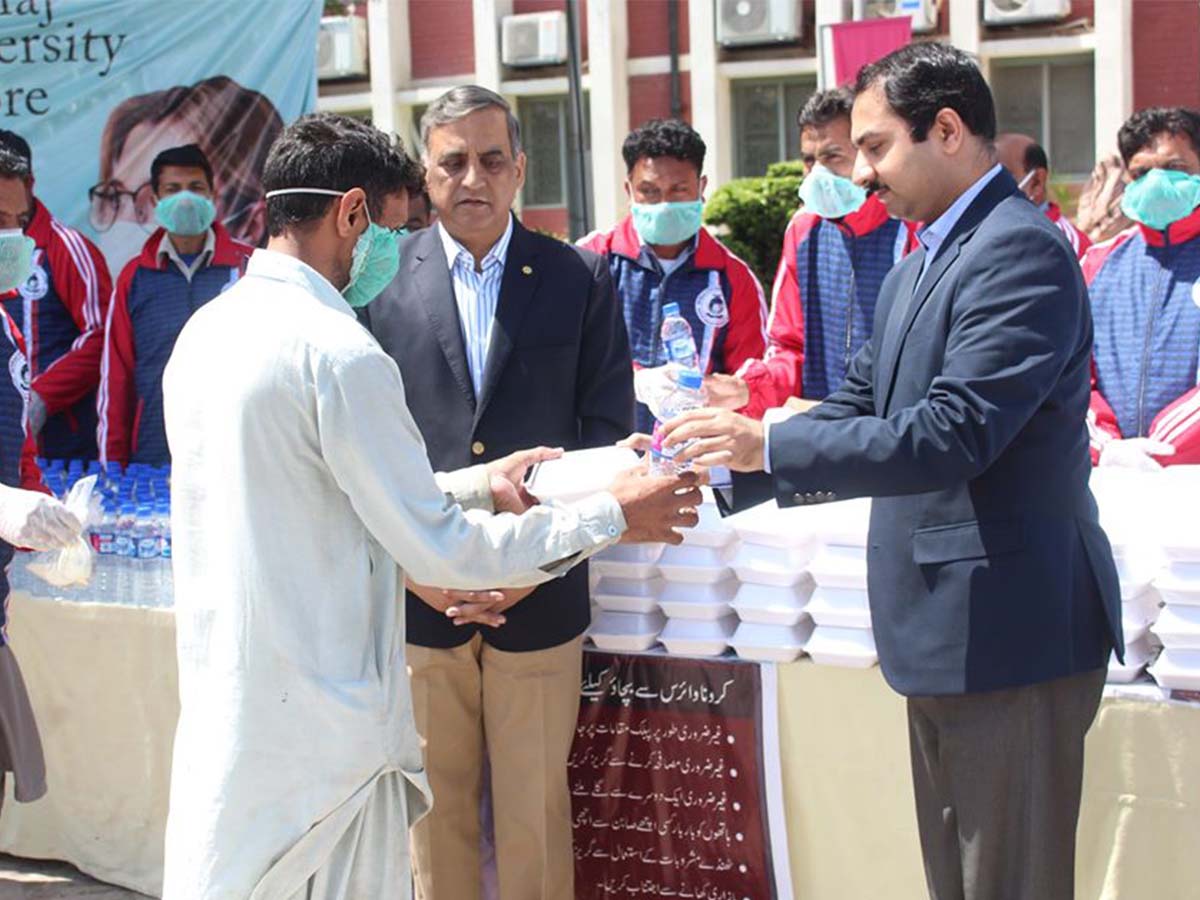 Apportion Food Program
Minhaj University Lahore conducted activity as per vision and mission of Shaykh-ul- Islam Prof. Dr. Tahir-ul- Qadri (Chairman BOG-MUL) on April 6th (2020) under the Food Supporting Program in the spree of Corona Pandemic to curb the prevailing apprehension of food scarcity among the deprived families on daily wages and striving for Bread & Butter. The social activity to serve humanity was conducted with the motto. 'Charity is the panacea to combat all ills and to defeat the octopus of Corona Monster. The food distribution activity was duly monitored and organized by Major Salman Janghir Director Administration by observing all the precautionary health measures of Social Distancing in coordination with the relevant government departments.
Dr Hussian Mohi-ud- Din Qari Deputy Chairman BOG-Mul in his message stated that every true Muslim believes that the power of Charity (Sadaqa) can even defeat death. It is time to beat the Corona Monster by establishing regular prayers and charity. Bearing this aspect in mind Minhaj University has initiated a Food Supporting Program "Apportion" To alleviate the hunger from the country and to assist the government to achieve the target of 'starvation free Pakistan', The Apportion will work utilizing mobile app, websites and other digital platforms for collection and distribution of the donations, connecting through various banks, restaurants and financial services companies. Such platforms facilitate the collection and distribution and bring ease to the donors and recipients.
Prof. Dr. Sajid Mahmood Shahzad, Vice-Chancellor (MUL) said that today's activity of Food Supporting Program is the first step of the Apportion project of Dr Hussain Mohi-ud- Din Qadri to provide cooked food to every person living in Pakistan who is upon sufferance and suffocating to death due to food starvation. To achieve this objective Minhaj University has decided to play its obligatory moral role to provide lunch boxes to families of daily wages and employees in days to come under the present emergency. He added,'' Pakistan is passing under the very critical time, unlike other countries. Poor of the poorest may die of hunger instead of corona so it is time to stand together as one unit to help those without waiting for their call and to contribute generously in this time of their crises.
Present on the occasion, Mr.Irfan Nawaz Memon, Director General Punjab Food Authority who specially visited to participate in the activity on the request of Vice-Chancellor. He appreciated the steps of Minhaj University Lahore for the food Supporting Program for the deprived families. He said,'' the role of Minhaj-ul- Quran International in the time of Disaster management has always been symbolic. He prayed that let us hope that Almighty, free us from this natural calamity and give us the power to fight back Corona pandemic and to make this world a better place for humans to live upon. He added,'' Just spending your money on yourself and your family and living a life full of material pleasures will not give you the peace of mind that you need. The moment you know that your little deed of charity has brought a smile to someone's face who is starving for food (Ration) for his family in the present scenario can bring peace of mind which you truly desire from the bottom of your heart and as the will of Allah &Sunnat-E- Rasool."
Mr Noorullah Sadiqui, Secretary Information (MQI) stated that the prime goal of Minhaj-ul- Quran International is to serve humanity in all spheres of life. Today's activity proves that even the educational institutes of Minhaj-ul- Quran International as Minhaj University Lahore has initiated a unique project of Apportion Food to distribute cooked food to the those who are hardly meeting their two ends meal.
Later on, in the first phase of the Food supporting Program Apportion of cooked food was distributed to the deserving persons present at the occasion and in the second phase, the cooked food packages were delivered by the administrative team of Minhaj University headed by Mr. Kasif Sheraz Khan at the doorsteps of the deserving families. This activity will continue on a daily basis in days to come under the current emergency circumstances