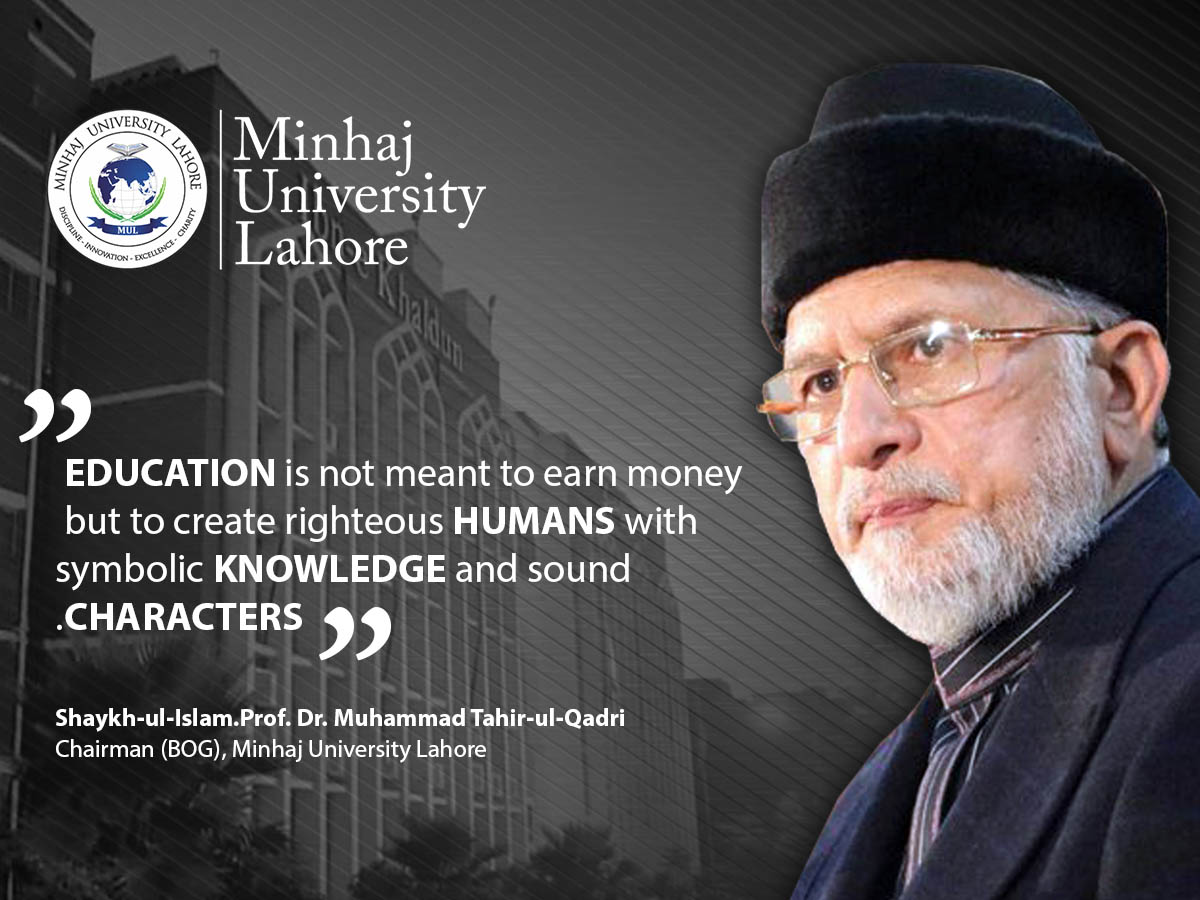 The Vision of Minhaj University Lahore
"The Vision of Minhaj University is to develop character, integrity and humanization."
Shaykh-ul-Islam.Prof.Dr Tahir-ul-Qadri, Chairman BOG, MUL in his virtual discourse to the Academia, categorically stated that Education is not meant to earn money but to create righteous humans with symbolic knowledge and sound characters. Indeed today Minhaj is the real reflection of Aligarh University where students besides degrees are familiarized to serve humanity with the wisdom they earn through Education and Knowledge and securing spiritual altitudes. The vision of Minhaj University is to develop character, integrity and humanization
He termed artificial intelligence as a blessing in disguise; it is identical to spiritual intuition when the person is in the state of prayer to the Almighty. He said that education is the foundation of every knowledge. Knowledge makes you supreme human beings. Remember, the human is Deputy Gerent of Allah in this universe. Allah has bestowed him to have the best of knowledge with the Quran and Sunnat of Holy Prophet (PUBH). The recreational process of human beings is not less than a miracle. The educational institutes must inculcate in humans beside routine education the spirit of maintaining justice and excellence among humans. Appreciate that Minhaj is keeping this essence of education in nourishing their students. The example of an educational institute is like a gardener and students is like plants and flowers. It is the moral obligation of every pedagogue to breed them in a virtuous manner.
Dr. Hussain Mohi-ud- Din Qadri, Deputy Chairman, BOG, MUL stated that it is all blessings of Almighty and due prayers of Shaykh-ul- Islam Minhaj University is prospering day by day and is ranked topmost in private universities in general and by HEC.
The credit of this triumph indeed goes to the determinations and commitments of each one of those who have been working wholeheartedly to bring glory to Minhaj University Lahore. He owed special benedictions to the devotions of Dr. Sajid Mehmood Shahzad, Vice-Chancellor to shape and form the future of students with its unparalleled set of learning resources with perspective to flourish their career ahead based upon values, beliefs and passive reception of facts.
Dr. Sajid Mehmood Shahzad, the vice-chancellor said that the university is fully cognizant of the fact that the formative years of students, the years spent at the university must be enriched through a variety of experiences. Keeping this in mind, during the present spree of Corona Virus Minhaj University never stepped back and kept on dispensing online education and successfully conducted online exams and marked among top ten universities who made the best use of artificial intelligence. Not only this, the university in collaboration with FiNJA has introduced the online mobile banking fee deposit solution. The acknowledgement of this goes to Mr. Abdul Rehman, Associate Treasurer, Mr. Ali Mohi-ud-Din, Manager Accounts,Mr Zia Ullah Nazi, Deputy Treasurer and the Accounts Department.
Dr. Muhammad Shahid Soroya, Pro vice-chancellor stated that the Minhaj University for the intake of Fall Session (2020) is 100% equipped for online admissions. The admission seekers can easily buy prospectus and can seek any query related to university programs and online classes schedule. Minhaj University in its bids always ensures that quality educational opportunities are available to all worthy candidates. Analytically, he stated that in Fall2019 there had been a hike of 59% admissions and we have been offering 85 programs in all module. It is a promising factor that the strength of female students is increasing in each session. He added to facilitate the admission seekers our admission office will be providing Tele Marketing facility furthermore.
Col.Muhammad Ahmad in his briefing said that it is a matter of great honour for a university that all the reservations by students logged on the web portal of the government are dealt meritoriously. This way Minhaj stands supreme with zero pending complaints. HEC and the Education Department has held in high esteem this credibility of Minhaj.
Dr. Khurram Shahzad, Director Academics in his briefing stated that the university has gained skilful experience during COVID 19 that how to upgrade our campus management system and now with that experience our campus management system is more and more user's friendly. He added that the Minhaj is a non-profit, non-political, non-sectarian, equal opportunities institution offering undergraduate and graduate programs in modern disciplines, many of which are not offered anywhere else in Pakistan. He added that Minhaj is a pioneer in conducting online classes. The scheduled time by HEC was to start it by June but Minhaj started in April. The university gave special orientation training to their faculty members for conducting online classes and possess 100% online readiness in all major modules. Almost 1078 courses are taught to 7000 students in one swing by online classes.Minhaj holds excellence that all online lectures are duly recorded. In the near future through Enterprise Resource Management (ERP) all functions of the entire university will be automated. The university to mitigate the financial Issues of students during COVID19 gave 30% discount in aggregate amounting to Rs30 million.
Honourable, Khurram Nawaz Gandapur, Nazam-e- Ala and Secretary Information MQI who made a distinct appearance in the virtual address of Dr.Prof Tahir-ul- Qadri, Chairman BOG, MUL paid reach tribute to the vice-chancellor, administration, academia, and IT team to conduct online classes, midterm exams and to take online admissions for Fall Session (2020)